Scott Davis - Head Coach
Coach Davis recently moved to Regina from his home province of New Brunswick to support his wife's new position in the Biology Department of the University of Regina.
Scott brings over 28 years of experience in Athletics as an athlete, official, administrator, and coach. He is trained as an Endurance Performance Coach, and a level II track Official.
He was assistant coach of the University Varsity Reds, and founding Head Coach of the St. Thomas University Cross Country Running and Track and Field programs for seven (7) seasons, earning a women's team atlantic championship in 2007, and atlantic coach of the year in 2009. His teams are 3-time recipients of the LeRoy Washburn award for Community Service (2008, 2010, 2011).
Scott has officiated on the track and been meet technical director for multiple cross country running events over the last 15 years, including high school provincials, Atlantic University Championships, and a National Championship.

He has also been a Board Member for Athletics New Brunswick (ANB) since 2012, and a Board Member for Saskatchewan Athletics since 2019. He is the Chair of the ANB Annual Awards Committee and Chair of the ANB Hall of Fame. He was the ANB Harold NicholsonVolunteer of the Year in 2017.
Carla Nicholls - Track and Field Consultant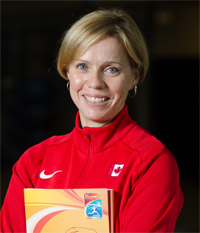 Carla is a two-time Olympic Team Coach who coached a total of 21 individual events at the 2008 and 2012 games. Her national team experience ranges from Head Coach of World Youth and World Junior Championships along with many event group coach assignments as Jumps and Combined Events Coach at multiple World Championships, Commonwealth Games, Pan American Games, and World University Games.
She is currently employed by Athletics Canada as the National Lead for Olympic Development, responsible for identifying, developing athletes to future sustainable high performance success.
Carla, who has a Bachelor of Science degree in nursing, has achieved her IAAF Level 5 Elite Coach certification in Horizontal Jumps and NCCP Level 4 Certification in Athletics. She is a graduate of the Coaching Association of Canada's Women in Coaching Apprenticeship Program and is an active ChPC with Coaches of Canada.
Her 24 years of involvement with athletics ranges from small club development to serving as Head Coach at the University of Regina, leading the team from last place to conference champions in just a few years. She was a writer of the New NCCP manual for athletics, a contributor to Athletics Canada's Long-Term Athlete Development program and is a Master Learning Facilitator for all levels of the NCCP.
One of Carla's greatest challenges was creating and then leading Athletics Canada's Olympic Development Program (ODP). This successful program identified, developed, and promoted athletic talent in Canada. Created in 2010, the focus was on 2016, preparing athletes for podium success. The program has kept many top athletes in Canada to train and prepare for their future endeavours. In 2012, 56% of Canada's athletics Olympic Team was made up of ODP athletes.
Carla is a passionate advocate of women in coaching, sport, and leadership. She is the leader of Women in Coaching for Athletics Canada and was active in establishing policies and procedures to ensure gender equity in the National Program. In 2009, her endeavours contributed to Athletics Canada winning the prestigious coach Sheila Robertson Award presented annually by Coaches of Canada to an organization that consistently values and recognizes the role of its coaches. She has just recently been elected to the NACAC Women's Commission.
Carla travels the globe as a high performance consultant, doing multiple speaking engagements in the areas of high performance, club/athlete, and coach development. She has organized and led numerous coaching clinics for the development of jumps and combined events.